They've been open about how much work it takes.
By Michelle Darrisaw
ALBERTO E. RODRIGUEZGETTY IMAGES
Now this is a story all about how…Will Smith and Jada Pinkett Smith fell in love.
As one of Hollywood's most iconic power couples, the Smiths have celebrated multiple award wins, raised three kids, and jumped out of a plane—together. Smith and his wife walked down the aisle in 1997, and have been going strong ever since.
Though the two have never shied away from discussing the ups and downs of their relationship, their 23-year marriage is a testament to how they've managed to weather every storm, despite being in the public eye. In addition to charming us both on- and off-screen, the Smiths are also incredible parents to their two kids, Jaden and Willow Smith, as well as Smith's oldest son, Trey, from his first marriage to Sheree Zampino Fletcher.
There's a lot to admire about the pair, so let's start from the beginning with how the Smiths romance unfolded and their most defining moments as husband and wife.
---
1994: Jada met Will on the set of The Fresh Prince of Bel-Air.
GETTY IMAGESADVERTISEMENT – CONTINUE READING
Though Smith, 51, and Pinkett Smith's relationship sounds like a story ripped straight from the plot of a romantic comedy, their meet-cute didn't have a traditional happy ending. They briefly met in 1997 when Jada, now 48, auditioned for a role as Smith's character's girlfriend on the '90s sitcom, The Fresh Prince of Bel-Air. Unfortunately, the five-foot actress didn't get the part because she was too short. Instead, the role went to Nia Long.
Still, despite their drastic height difference, Pinkett Smith would soon become Smith's leading lady off-screen a few years later. To this date, the pair have never appeared in a movie or on a TV show together. However, they do produce films through their joint production company, Overbrook Entertainment.
---
1995: The Smiths started dating.
During a 2018 Red Table Talk appearance, Smith expressed that he was attracted to Pinkett Smith when he later saw her on the college-themed TV series, A Different World.
"I knew there was something in our energy that would be magic," he said.This content is imported from Facebook.
Unfortunately, Smith was married at the time to Fletcher and decided not to act on his attraction to Pinkett Smith. Smith later revealed on Red Table Talk that he knew Pinkett Smith was the one. An aha moment he had in a restaurant bathroom while he was on a dinner date with Fletcher.
GETTY IMAGES
"I had a realization I wasn't with the person I was supposed to be with," Smith said. "I was sitting in a stall and I was crying and laughing uncontrollably, and I knew [Jada] was the woman I was supposed to be with, but I was never getting divorced…I went back out, sat down with Sheree and started going back on with my life."
It wasn't until Fletcher ended things with Smith that he tried to woo the actress. He asked Pinkett Smith if she was "seeing anyone," and her response was "no."
"Cool, you're seeing me now," Smith smoothly told her. From there, Pinkett Smith moved from Baltimore to California, and the two began dating. Smith and his ex-wife officially divorced in late 1995.
---
December 1997: Jada and Will got married.
Smith officially asked for his wife's hand in marriage in November 1997.
"One day we got engaged, and the next day we found out we were pregnant," Pinkett Smith told People. That's right, when Pinkett Smith walked down the aisle in a velvet, champagne-colored gown on December 31, 1997, she was three months pregnant with her first child.
The only safety life offers is the opportunity to gain the wisdom and strength to overcome ANYTHING.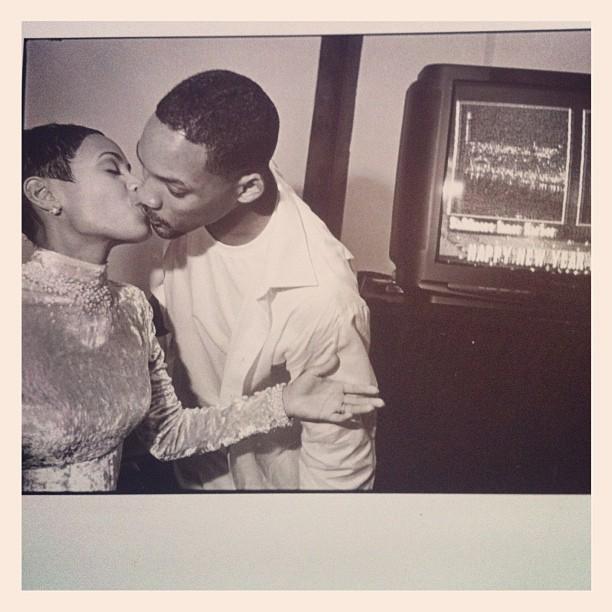 The two married in a private ceremony at a hotel in Pinkett Smith's native city of Baltimore. There were no invitations sent, according to People, because the couple wanted to avoid any potential leaks to the media. Which explains why there are very few photos of their big day floating around the Interwebs, but Pinkett Smith posted the above Polaroid snap on Twitter of the pair sharing a New Year's Eve kiss shortly after saying their "I do's."
On Red Table Talk, Pinkett Smith finally opened up about her wedding day, but it wasn't the fairy tale we all might've imagined.
"I was so upset that I had to have a wedding," she remembered. "I was so pissed. I went crying down the freakin' aisle getting married."This content is imported from Facebook.
---
July 1998: Pinkett Smith gave birth to their son, Jaden Smith.
First, came love. Then came marriage, and, well, you know the rest. Pinkett Smith welcomed her first son, Jaden Christopher Syre Smith, on July 8, 1998 in a speedy delivery.
"The doctor said it would take an hour-and-a-half to deliver him," she told Fit Pregnancy. "I said, 'Oh it's not going to take that long. I'm too anxious to meet this baby.' It took me 20 minutes to push him out. My mother's a nurse and she was in there with me and she was amazed!"
Jaden quickly followed in his parents' superstar footsteps, catching the acting bug and inheriting the music gene from his rockstar mother and rapper/actor father. Unlike Pinkett Smith, their son has starred in two movies with his dad: After Earth (2013) and The Pursuit of Happyness (2003). He also released his debut studio album in 2017, Syre, which is taken from his middle name. Smith even remixed his son's hit song, "Icon" in a tribute video in May 2018.
---
October 2000: Their second child, Willow Smith, was born.
Nearly two years later, the Smiths welcomed their daughter, Willow Camille Reign Smith, on October 31, 2000. Smith confirmed his daughter's conception happened on a drunken trip in Mexico on VH1's "Dear Mama" special.
"I'm not gonna be silly," Smith said during his opening monologue. "I'm here to honor you. Just watching the piece with the kids it takes me back to when we made them. Can't help but think about that. It's just amazing. It's like you take Jada Pinkett Smith and an obscure town in Mexico and some tequila and you end up with great kids!"
Like her big brother, Willow also became a fixture on the entertainment scene, appearing in the movie, I Am Legend, alongside her father. Her first song, "Whip My Hair" was released in 2010 and thrust her in the spotlight. Although these days she spends her time modeling and co-hosting the Red Table Talk series with her mother and grandmother, Adrienne Banfield-Jones, Willow still sings and performs at major music festivals.
---
April 2013: Pinkett Smith denied being in an open relationship.
GETTY IMAGES
After an interview with HuffPost Live on April 3, 2013, Pinkett Smith's comments about her marriage raised a few eyebrows.
"I've always told Will, 'You can do whatever you want as long as you can look at yourself in the mirror and be okay,'" she said. "Because at the end of the day, Will is his own man. I'm here as his partner, but he is his own man. He has to decide who he wants to be and that's not for me to do for him. Or vice versa."
This caused many people to believe she was admitting to being in an open relationship with Smith. Pinkett Smith would later clarify her statement on her personal Facebook account, opening up her intimate post with the question: Open marriage?
"The statement I made in regard to, 'Will can do whatever he wants,' has illuminated the need to discuss the relationship between trust and love and how they co-exist," she wrote.
---
August 2015: The Smiths confirmed their marriage is rock solid (again).
In 2006, Smith made it plain to MTV News, as reported by Billboard, that "divorce can't be an option."
"With Jada, I stood up in front of God and said, 'Til death do us part,' Smith said. "So there are two possible outcomes. One, we are going to be together till death, or two, I am dead."
GETTY IMAGES
But that didn't stop rumors from swirling that the couple were headed for splitsville. Because in 2015, Smith was forced to state the obvious again on Facebook: "In the interest of redundant, repetitious, over & over-again-ness…Jada and I are…NOT GETTING A DIVORCE!!!!!!!!!!!!!"
Pinkett Smith echoed her husband's frustrated sentiments during a June 2018 interview on Sway in the Morning.This content is imported from YouTube.
"Here's the thing about Will and I, it's like, we are family, that's never going down," she said. "It doesn't matter, all that relationship and what people think, ideas of a husband and a partner and all that, man, whatever, at the end of the day, that's a man that can rely on me for the rest of his life, period."
---
May 2018: Pinkett Smith invited Smith's ex-wife to Red Table Talk.
On the May 2018 premiere episode, "Motherhood," of Red Table Talk, Pinkett Smith extended an invitation to an unexpected guest: Smith's ex-wife, Fletcher. The two women were completely respectful towards each other during their frank discussion, speaking candidly about their rocky past, and how Fletcher's son with Smith, Trey, led to them becoming friends and a blended family.
---
July 2018: Smith referred to Pinkett Smith as his "life partner," not wife.
Now, having been together for more than two decades, the Smiths revealed that they're well beyond relationship labels and traditional unions, as proven by a recent conversation Smith had on TIDAL's Rap Radar podcast in 2018.
"We don't even say we're married anymore," Smith explained on the music streaming service. "We refer to ourselves as 'life partners,' where you get into that space where you realize you are literally with somebody for the rest of your life. There's no deal breakers. There's nothing she could do—ever—nothing that would break our relationship. She has my support til death, and it feels so good to get to that space."