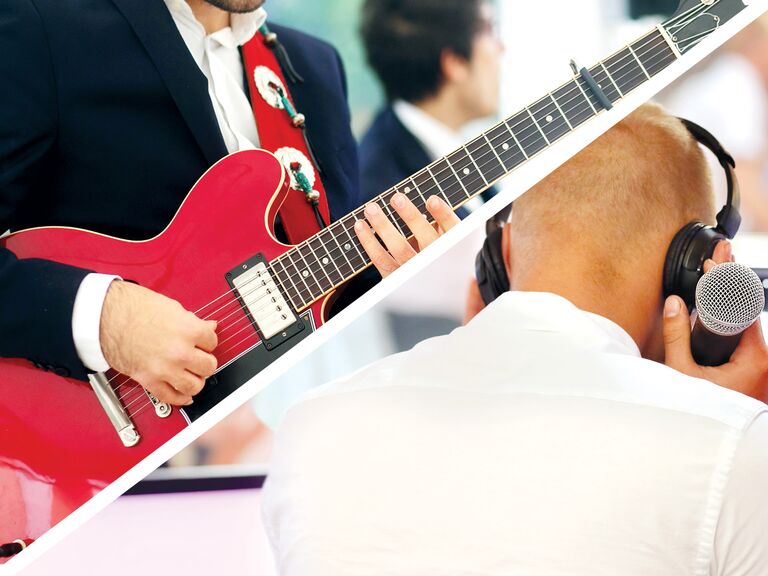 There's no doubt about it: Music can make or break a wedding celebration—think of it as the heart and soul of a reception. Hiring a talented band or DJ (or both!) is a given. But how do you find exactly what you want? It starts with asking yourself some basic questions—specifically, what type of entertainment suits your personal taste, budget, space allowances, guest demographics and killer dance moves best. Here, we list five things to know before you make your music choice.
1. You have a few things to consider.
Vibe: The type of music you pick can set the tone of your wedding and solidify a theme. And it's the thing people most often remember. Think about what musical genre best reflects your personalities and inspires the ambience you want to create: '70s disco or a romantic string quartet? A throwback big band feel or kick-off-your-shoes rockabilly? The way the music is delivered—by live band or DJ—also affects the atmosphere. The type of music you want may also dictate your decision too—big band sounds are generally best live, for example.
Variety: Regardless of whether you choose a band or DJ, be sure they play slow and fast songs, as well as old and new tunes to encourage all guests to hit the dance floor.
Budget: In the price war, DJs generally cost less, and prices vary depending on equipment requests and whether it's a weekday or weekend. A 12-piece band, for example, will generally be more expensive than a DJ, since there are more people to pay. (There are always exceptions; well-known DJs can be just as expensive as live bands.) Band prices vary by the number of musicians, the amount of time you want them to play for, day of the week and what time of year it is.
Space: Have your heart set on an eight-piece band? You first need to check whether the reception site has any restrictions on the number of musicians and pieces of equipment you may bring in, and whether there are any electrical power supply or noise limitations. For example, a registered landmark may not allow you to use large speakers. Ask these questions before you start scouting.
2. A band has its pros and cons.
There's nothing like a live wedding band to get a crowd excited and create a sense of sophistication. A good bandleader will play the master of ceremonies at your reception, interacting with folks on the dance floor, paying attention to the "feel" of the room and selecting music accordingly.
Pros: Live music is, well, live. You and your guests will experience the pleasure of a performance. Anything can happen to raise the excitement level, from an infectious horn section interlude to a moving solo.
Cons: Bands can be more expensive than DJs. Also, no matter how great the band, they can't have the repertoire of a standard DJ, who can keep a huge variety of music on hand. And if you want to hear a song the exact way the original artist performed it, you may not get what you want.
3. And so does a DJ.
Today's DJs are artists in their own right, offering balanced and eclectic mixes of musical styles for all ages. The songs played will sound exactly as you want them to, encouraging sing-alongs and improvisation. And, depending on the amount of equipment a DJ brings, they could take up less dance floor real estate and can be relocated with relative ease.
Pros: If there are a dozen songs you're dying to hear at your wedding, it likely won't be a problem for your DJ to find each track. Also, DJs are generally less expensive than bands. A DJ with a charismatic stage presence and excellent emcee skills can really set the mood and keep the party going.
Cons: On the opposite end of the spectrum, a DJ with a less-than stellar personality can be a party killer. Also, improvisation is tough if, say, your dad is dragging behind tempo on the father-daughter dance or your nieces and nephews decide to request the "Chicken Dance."
4. You should see them live at some point.
Ideally, you will want to see a DJ or band in action before you commit so you can gauge firsthand the way they dress, improvise and work the crowd. (Ask to see a taped public performance or attend a dress rehearsal, but never crash another couple's reception.) If that's not a possibility, ask for a playlist and look for songs you know and love. If a band sends you their songs or a link to a video, be sure the musicians you hear or see are the same musicians who will play at your reception. Also, ask for referrals from the last few weddings the band or DJ played. Consider your first dance song a test. If the band doesn't know it and is unwilling to learn it, or the DJ doesn't own it and is unwilling to get it, move on.
5. Tell them your likes and dislikes before you sign.
Know that all professionals should be open to your likes and dislikes. Give them your personal request list, songs they must play and, perhaps more importantly, a do-not-play list. Worried you'll hear the "Macarena" at your once-in-a-lifetime event? Specifically prohibit the playing of a song you feel strongly about in your contract.